BACK YARD PARTIES WERE VERY POPULAR
Target shooting with BB guns, 22 cal. rifles, and homemade bows and
arrows. ---
Bonfires on july 4th. ---
Potato roast, corn roast, grilling hot dogs on an open camp fire. ---
Enjoying ice cream cones when the ice cream truck came around. ---
Climbing trees, hiking, building shacks, playing hide and seek, swimming in the many water filled holes. ---
Playing poker and other card games. ---
Enjoying the many activities at the Byrnesville gun club, trap shooting,
pigeon shooting and picnics.---
Playing pinball machines.---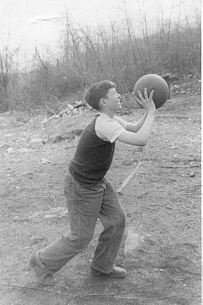 MIKE REILLEY WITH BASKETBALL
HERE IS MIKE REILLEY AT PINBALL MACHINE
THE BOYS AND I BACK FROM A RIDE
While the strip mining of coal caused a lot of dirt , noise and inconvience
it also provided many enjoyable hours of watching giant machines digging
for coal and hauling away the dirt and the coal.
After the holes were finished the large dirt banks that remained were
used by dirt bikers for hill climbing, for sledding and hiking.
THESE LARGE MACHINES DUG HUGE HOLES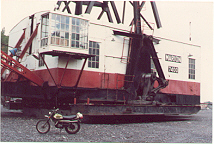 CYCLE LOOKS SMALL BESIDE BIG MACHINE
THIS TYPE OF TRUCK HAULED AWAY THE DIRT
We also traveled to neighboring towns to swim, go to movies, watch parades and play in the playgrounds. We traveled to amusement parks such as Reichweins, Buery's grove, Ideal, Springbrook and Knoebels.
After 1950, television was added to the things to do.
I am sure that there are many things that could be added to this list and I hope former residents will keep us informed about their experiences either by E-mail or the guest book.
THANKS : MIKE REILLEY
mpreil@verizon.net
CHECK THESE OTHER LOCAL HISTORY SITES
Click here to return to Byrnesville index page
REMEMBERING THE LAST DAYS OF BYRNESVILLE
DECEASED RESIDENTS OF BYRNESVILLE
ASHLAND PICTURES FROM THE PAST
CENTRALIA PICTURES BEFORE AND AFTER THE FIRE